Visit the saltworks in Les Sables-d'Olonne
Spend a romantic weekend in the Vendée to discover the salt marshes of Sables-d'Olonne
Stroll through the salt marshes
The Salines de Vendée are much more than a tourist attraction.
René Clouteau initiated the project and has been developing it for over 30 years. This local heritage can be discovered during a stroll through the salt marshes along the water.
Come aboard the Jonathan or the Mireille, the boats of the Salines. As if with an old friend, they will take you on a nearly 8 kilometre tour of the area.
The guided tour tells you the history of salt, from its formation to its sale, and offers you extraordinary views. The fauna and flora are also part of the adventure.
A unique park in Les Sables-d'Olonne
After your boat trip, the Salt Adventure Park opens its doors to you.
From now on, you will walk through the hectares of the marsh to learn more about the salt of the region.
Follow the map with your children to help them discover the mysteries of the area. On the way, you will see :
The fishermen's huts and their secrets
The bird observatory
The salt worker's trade
The plant trail
At the end of this adventure, you will know everything about the salt harvest!
Practical information
Address: 120 Rte de l'Aubraie, 85100 Les Sables-d'Olonne
Access by bike from the Longère des Olonnes in less than 10 minutes (2.8 kilometres)

La Longère des Olonnes, gues rooms with swimming pool in the Vendée
Take advantage of your stay in the west of France to recharge your batteries near the Atlantic at La Longère des Olonnes.
Whether you are a couple, a family or a group of friends, this accommodation has 4 guest rooms to welcome you in a good mood.
➤
See all guest rooms
Close to the ocean and nature, you can enjoy water sports as well as all kinds of walking activities.
When you return, take a dip in the heated pool or relax in the spa. Whatever happens, you are sure to have a pleasant stay with us.
➤
More information about the swimming pool and the spa
If you're looking for bed and breakfast with a swimming pool in Les Sables-d'Olonne, this is the place to book!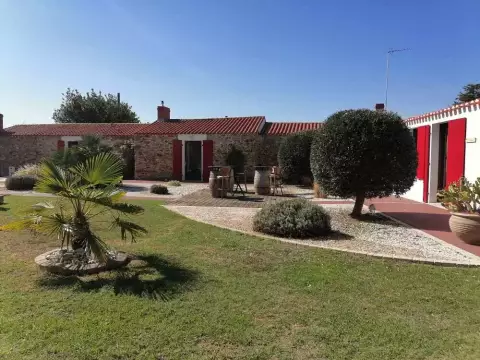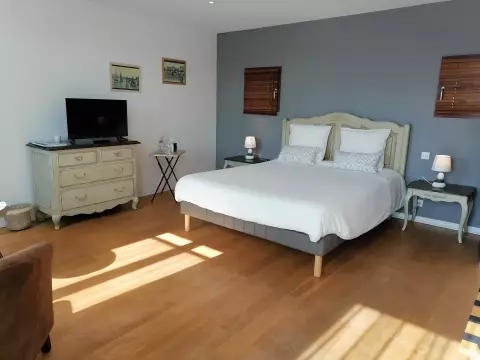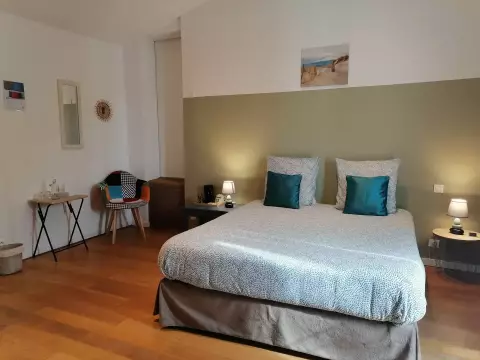 Book Visit the saltworks in Les Sables-d'Olonne