Spend a day at the Puy du Fou theme park
Visit the Puy du Fou, only 1 hour from La Longère des Olonnes

Voted best amusement park in the world, the Puy du Fou park is only 1 hour away from La Longère des Olonnes.

Take advantage of your stay in one of our guest rooms at La Longère des Olonnes in Les Sables-d'Olonne to head for Les Épesses.

Go back in time for an exceptional day at the famous Puy du Fou park!


The Grand Parc
Step through the gates of the park and plunge into the past. Covering the eras from the Middle Ages to the 20ᵉ century, the park offers numerous attractions and magnificent settings to retrace the History of France through the ages.

Our favourite ❤️: the show "Le Signe du Triomphe" which takes place in a Gallo-Roman stadium. This reproduction of the Circus Games impresses with its gladiatorial combats and its famous chariot race.


The Cinescénie
A grandiose night show awaits you!

The Puy du Fou park invites you to cross the ages for a 1h30 show. Let yourself be transported by an impressive staging: 3D projections, light shows, pyrotechnic effects... And more than 2,500 actors to offer you the most beautiful night show.

Don't miss this event, which has become a must-see in the Puy du Fou park!

Relax after your day
Want to relax after your visit to the Puy du Fou? Take a dip in our heated swimming pool and do a few lengths to relax in water at a perfect temperature during your stay at La Longère des Olonnes.

For more relaxation, don't hesitate to book your time in our spa at the reception for a romantic moment of pure happiness.

Don't wait any longer and book your guest room in Les Sables-d'Olonne now!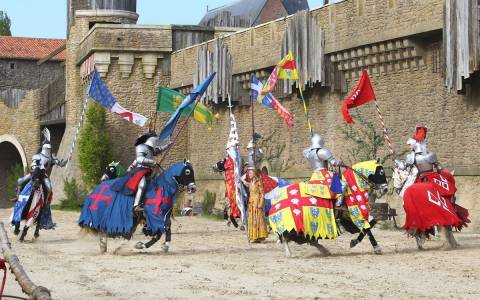 Book Spend a day at the Puy du Fou theme park